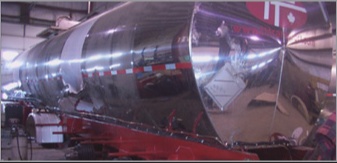 Tank Truck Transport, operates three repair facilities which are located at our Uxbridge Terminal as well as Sudbury and Cornwall terminals. Each repair site is qualified to perform repairs specifically involving each terminals transportation requirements.
The Uxbridge Terminal is where Tank Truck Transport's largest maintenance facility is located. Licensed engine and trailer mechanics, welders, tire repair and service to all equipment is maintained at this location. With experienced service technicians averaging over 20 years experience in tank repair, maintenance and manufacturing,
Tank Truck Transport has also been able to modify various types of tanks to expand its fleet and meet the specific requirements of their customers. All tanks in Canada and the U.S. must have specific tests performed on an annual basis, these are all performed at Tank Truck Transport's facility in Uxbridge. These tests include B620 / HM 180 (V.I.K.P.T.UC.) as well as all M.T.O. service requirements for all equipment in the fleet.
Safety is of vital importance to Tank Truck Transport and the most extreme measures are taken to ensure the safety of their equipment, drivers and customers.